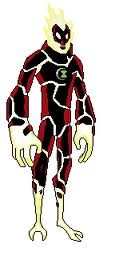 Ben Usa Chama Poucas Vezes Mas Este é Novo e Muito Mais Poucas Aparições.
Habilidades:
Soltar Fogo.
Usar Seu Fogo Como Luvas de Fogo.
Fazer Tornados de Fogo.
Voar Com Suas Pranchas de Fogo.
Desvantagens:
Mesmas Que Chama
Aparições:
Centro Criacional(Ben de 10 Anos)
Vicktor Ressurge
Ben 10.000(S4 Chama)
Aliens S4:
Chama,Xlr8,Eattle,ClockWork,Diamante,Quatro Braços,Macaco Aranha,Inguana Artica,
Aliens SA:
Friagem,Fogo Fatúo,Eco Eco,Enormossauro,"Chama SA",Besta SA,Quatro Braços SA,Gosma,Atrópode,Cromatico,Grandão,Macaco Aranha,Alien X(Ativado Nos 2 Cabos Alienigenas)
Ad blocker interference detected!
Wikia is a free-to-use site that makes money from advertising. We have a modified experience for viewers using ad blockers

Wikia is not accessible if you've made further modifications. Remove the custom ad blocker rule(s) and the page will load as expected.