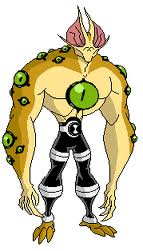 Mega Olhos é Capaz de Soltar Raios de Gelo que Congelam Muito.Ele Foi Visto Uma Vez Num Episódio de Ben 10.e Foi Ótimo Lutando Contra Os Enimigos Usados no Episódio.
Habilidades:
Congelar(Pelos Seus Olhos).
Usar Olhos Por Todo Lado.
Tem Super Reflexos.
Força Sobre-Humana
Desvantagens:
Sensivel Com Fotos,Cameras ou Qualquer Flash que Tiver.
Piadas: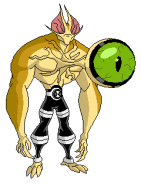 -Oi(Em Forma Normal)
-Oi.
Qual Seu Nome?
-*Mostra Seu Olho*Mega Olhos e Você?
Aparições:
Ben 10:Contra Os 10 Negativos Parte 2
Ben 10:O Segredo do Omnitrix
Erros:
Em Sua Piada Esta Sem Seus Olhos Por Todo Lado.
Aparições em Curtas:
Nenhuma.
Aliens Desbloqueados(10):
Bola de Canhão,Cipó Selvagem,LobisBen,BenMumía,BenFrankestein,Glutão,Clone,"Mega Olhos",Eon,Grandão
Ad blocker interference detected!
Wikia is a free-to-use site that makes money from advertising. We have a modified experience for viewers using ad blockers

Wikia is not accessible if you've made further modifications. Remove the custom ad blocker rule(s) and the page will load as expected.