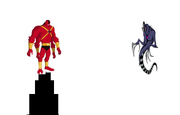 | | |
| --- | --- |
| Nome Original:The Return of Zs'Skayr | |
| Episódio Anterior:Rebotando a Supremacia | |
| Episodio Seguinte:O Retorno de Vilgax Parte 1 | |
História:
Ben Estava Andando Quando Toda Cidade Ficou Escura e Derreteu,Ben Com Toda Sua Raiva de Quem Teria Feito.Virou Gosma,Então Quando Viu Albedo Apareceu Mas Seu SuperOmnitrix Não Estava.Pois Logo Pegou Um Dispositivo Anti-Ectonurites e Se Protegeu Quando Ben Viu Falou Rindo:"Porque Pegou Isso Valentão?"Albedo Disse Para Ben Desconectar Seu Superomnitrix e Da-lo a Albedo Mas Ben Andou Como Gosma.Quase Conseguiu Atravessar o Escudo Então Albedo Ligou Outro Dispositivo e Se Transformou em Quatro Braços Ben Vendo o Piso Virar Poeira Virou Fantasmático e Voou.Então Seu Superomnitrix Brilhou Roxo e Seus Olhos Ficaram Rosa.Albedo Desativou o Escudo.Então Ben Se Libertou e Prendeu o Albedo no Pixo com Uma Luz Rosa Com Brilhinhos Roxos Então Mandou Albedo Para o Lulificador Com o Poder de Teleporte.
Transformações de Ben:


Transformações de Albedo:
Ad blocker interference detected!
Wikia is a free-to-use site that makes money from advertising. We have a modified experience for viewers using ad blockers

Wikia is not accessible if you've made further modifications. Remove the custom ad blocker rule(s) and the page will load as expected.