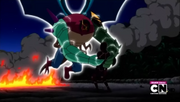 Alan Estava Fugindo de Kevin,Então Logo Seus Poderes São Absorvidos,Mas Ben Como NRG Salva Alan,Então Fala Que Kevin Não Vai Parar Se Ben Não Impedi-lo,Então Pede Ajuda a Gwen e Decidem:"Morte ou Ajuda" Mas Ben Deseja Morte e Gwen Ajuda,Pois Então Gwen Não Deixa Ben-o Ferir,Mas Ben Vira Cromático e Absorve o Mana de Gwen,Mas Gwen Deixa Ben Derreter,Então Ben Vira Tartagira Prendendo Gwen Numa Correnteza,Mas Gwen Faz Ben Para,Então Ben Vira NRG e Deixa O Piso de Lava,Mas Gwen Se Defende,Então Ben Vira Nanomech,Então Gwen-o Prende em Seu Livro,Mas Ben Vira Grandão Derrotando Gwen Com Seu Raio,Então Ben Enfrenta Os Cavaleiros Eternos e Vulkanus,Então Gwen o Impede de Derrotar Vulkanus,e Perto Dela Estava Estrela Sombria Curado,Então Fazem Um Plano de Encontra-rem Kevin, e Faze-lo Parar,Mas Ele Absorve Gwen Fazendo-a Gritar de Dor...Continua.
Transformações de Ben:

Mana:
Professo Kar
Rest Ituo Nowitus Wespinaetro Itus Vigoratus Perwita
Erros:
Depois de Ben Voltar Ao Normal(de Grandão) O Piso Estava Normal Ao Invés de Derretido,Quando Kevin Solta Uma Bola de Mana e Gwen se Protege Antes da Bola Vir o Escudo Quebra,Depois de Kevin Absorver Alan o Braço de Macaco Aranha Estava Laranja(Atrópode),Gwen Chama Grandão de Gigante Mas o Verdadeiro Nome é Grandão,Os Raios de Grandão Estavam Azuis(Que Seria Verde no Certo),Tartagira Foi Derrotado Por Mana Mas Tartagira é Imune a Mana.
Curiosidades:
Dr.Vicktor é Mencionado Neste Episódio,é a Primeira Vez Que Enormossauro e Vulkanus Aparecem no Mesmo Episodio,Talvez Seja Kevin Que Congelou Dr.Vicktor,é a Segunda Vez Que Enormossauro Tenta Dar Um Soco Mas Gwen Segura o Soco Com Mana(Sendo o Primeiro Mapa do Infinito).
Ad blocker interference detected!
Wikia is a free-to-use site that makes money from advertising. We have a modified experience for viewers using ad blockers

Wikia is not accessible if you've made further modifications. Remove the custom ad blocker rule(s) and the page will load as expected.