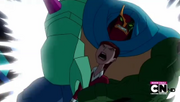 Kevin Esta Absorvendo Muito Mana,Que Gwen Esta Implorando Para Kevin Parar,Então Ela Escapa de Kevin,Então Cooper Começa a Arrumar a Maquina,Então Ben Luta Com Kevin,Mas Logo Kevin Vai Atrás de Gwen Que Estava Emcima de Um Caminhão e Então Ele Explode o Caminhão,Fazendo Gwen Quase Sofrer Mas Gwen Se Protegeu,Então Ben Luta Pra Valer Com Kevin,Então Julie e Ship Salvão Gwen,Mas Logo Ben Escapa de Onde Estava Preso,Virando Eco Eco Supremo,Logo Kevin Vai a Los Soledad Para Absorver Gwen,Então Cooper Aparece e Tenta Proteger Gwen,Então Kevin-o Toca Mas Ben Pega Cooper,Então Luta Contra Kevin,Mas Logo Quando Kevin é Derrotado,Eles Botam-o na Maquina,Então a Maquina Suga Todos Poderes de Kevin,Então Estrela Sombria Pega o Absorvedor de Energia Virando Estrela Dourada,Mas Ben Desativa a Maquina,Fazendo Estrela Dourada Ser Estrela Sombria,Então Kevin-o Soca,Então Cooper é Beijado na Bochecha Por Gwen e Kevin na Boca,Criando Mas Uma Missão Completa.
Transformações de
Ben
:


Mana:
Erros:
Quando Eco Lutou Com Kevin Foi Um Mistério de Como Ben Parou no Porta-Malas,Friagem Estava Com Voz Diferente,Max Referiu Alan Como Chama.
Curiosidades:
é A Primeira Vez Que Julie Esta Junta a Ship em Ben 10 Supremacia Alienigena,é a Primeira Aparição de Harvey Hacket.
Ad blocker interference detected!
Wikia is a free-to-use site that makes money from advertising. We have a modified experience for viewers using ad blockers

Wikia is not accessible if you've made further modifications. Remove the custom ad blocker rule(s) and the page will load as expected.