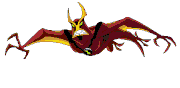 Habilidades:
Soltar NeuroShock's Pela Cauda e Os Olhos.
Voar.
Pode Chicotar Com Seu Rabo.
Pode Sobreviver no Espaço
Desvantagens:
Ele é Fisicamente Fraco.
Pode Viajar na Água ou Ar Mas Não na Terra.
Fica Fraco ao Estar Doente.
Não Suporta Seus Laser's.
Aparições:
Do Que São Feitas As Garotinhas?
Imitação Barata(Episódio Também Conhecido Como Boa Cópia Má Cópia,Albedo e Ben)
Inferno(Alien Selecionado Foi Enormossauro)
O Segredo de Cromático(Raio a Jato Resfriado)
Aparições em Ben 10 Supremacia Alienigena:
Ben 10.000 Retorna(Ben 10.000 1 Vez e Ben 1 Vez)
Aparições de Raio a Jato Supremo:
Não Informado.
Ad blocker interference detected!
Wikia is a free-to-use site that makes money from advertising. We have a modified experience for viewers using ad blockers

Wikia is not accessible if you've made further modifications. Remove the custom ad blocker rule(s) and the page will load as expected.