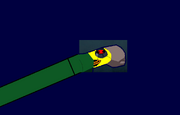 | | |
| --- | --- |
| Nome Original:Ultimate Rebound | |
| Episodio ANterior:Universo Paralelo | |
| Episodio Seguinte:A Vingança de Zs'Skayr | |
Ben Estava Lutando Com Os Prisioneiros que Escaparam da Prisão dos Encanadores Então Logo Ben Usa Todos Seus Aliens.Logo Os Encanadores Capturam Os Prisioneiros,Então a Explosão Para Ben Voltar ao Normal Estava Vermelha Quando Ben Viu Seu Superomnitrix,Ele Viu Ele Amarelo e Vermelho Algo Estranho Estava no Superomnitrix,Então Azmuth Aparece e Diz que o Superomnitrix Tem Que Ser Rebotado Então Ben Vai Lutar Com Dr.Animal Que Estava,Controlando um Yeti Junto a Um Hamster Então Ben Vai Virar Acelerado Mas Seu Superomnitrix Não Permite.Então Ben Tenta Friagem Deu Certo,Então Em Seguida Ele é Socado.e Caido no Chão,Pois Bate no Seu Simbolo do Superomnitrix Mas Sua Supremacia Não Funcionou Então Ben Voa Pra Cima do Hamster e o Congela O Socando e o Quebrando,Logo é Pegado e Largado Longe,Azmuth Rebota o Superomnitrix Então Logo Ben Vira Cama-Leão,e Fica Invisivel,Então Aparece Perto de Dr.Animal e Pega-o Quebrando o Controlador de Mente do Yeti Então Ao Ser Levado a Prisão Ben Resolve Ir Para Casa Tomar Um Sorvete e Comer Suas Batatas Fritas que Estavão Guardadas.
Transformações Principais:
NRG,Fogo Fatúo,Bola de Canhão,Acelerado,Gosma,Enormossauro,Cromatico,Atrópode,Friagem e Cama-Leão
Companheiros Principais:
Azmuth.
Vilões Principais:
Prisioneiros da Prisão dos Encanadores,Yeti,Hamster e Dr.Animal
Ad blocker interference detected!
Wikia is a free-to-use site that makes money from advertising. We have a modified experience for viewers using ad blockers

Wikia is not accessible if you've made further modifications. Remove the custom ad blocker rule(s) and the page will load as expected.