Teste 1 Dificuldade:Fácil
Alien Usado:Irado

Oque Faria Se Sunder Estivesse Capturando a Unitrix(Eunice)? 1 Opção:
Esmaga-lo Numa Pedra(0% de Votos)
2 Opção:Leva-lo Ao Nulificador(0% de Votos)
Teste 2 Dificuldade:Fácil
Alien Usado:

Enormossauro - Enormossauro Supremo
P'andor Fugiu de Seu Planeta e Foi Para Terra e Agora?
1 Opção:Soltar Canhões em P'andor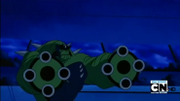 2 Opção:
Ad blocker interference detected!
Wikia is a free-to-use site that makes money from advertising. We have a modified experience for viewers using ad blockers

Wikia is not accessible if you've made further modifications. Remove the custom ad blocker rule(s) and the page will load as expected.